How we started
Winery Shatiri was established in 2018 as a brand. However, the Shatirishvili family has a long history of winemaking, spanning over five generations. Nika Shatirishvili—great-great-grandfather of Vakhtangi and Nikolozi Shatirishvili—started professional winemaking in the second half of the 19th century in Akhmeta where there is still an old wine cellar. His great-grandson Merab Shatirishvili moved to Lagodekhi where he used to make wine of various sorts. By the initiative of his sons, Vakhtangi and Nikolozi Shitirishvili, the family started a wine business in 2018.
Nowadays, the cellar is located in village Shroma, Lagodekhi Municipality. The winery has its own vineyards in village Ninigori. In 2017, the existing vineyard was extended so that the following unique Kakhetian grape varieties were added: Kisi, Akhmetis Tsiteli, Grdzelmtevana, Kakhuri Mtsvivani, and Shavi Rkatsiteli.
Craftmanship
It is noteworthy that our wines are produced in Qvevri, with the traditional methods used by our ancestors. Our small cellar produces 100% natural wine. Our philosophy is not quantity but quality.
shatiri statement
Continuing Qvevri winemaking tradition which counts 8000 years
We love winemaking and deal with enthusiasm each and every step of the process before we get the final product. We are sure it would define the successful future of our wine. Shatiri's credo is simple, we start with the alphabet of wine.
The Qvevri is an egg-shaped earthenware vessel used for making, ageing and storing the wine. Knowledge and experience of Qvevri manufacture and wine-making are passed down by families, neighbours, friends and relatives, all of whom join in communal harvesting and wine-making activities.
Even though our ancestors were making family wine in Qvevri for decades, we have decided to make it commercial only in 2018.
Winery Shatiri
Our Timeline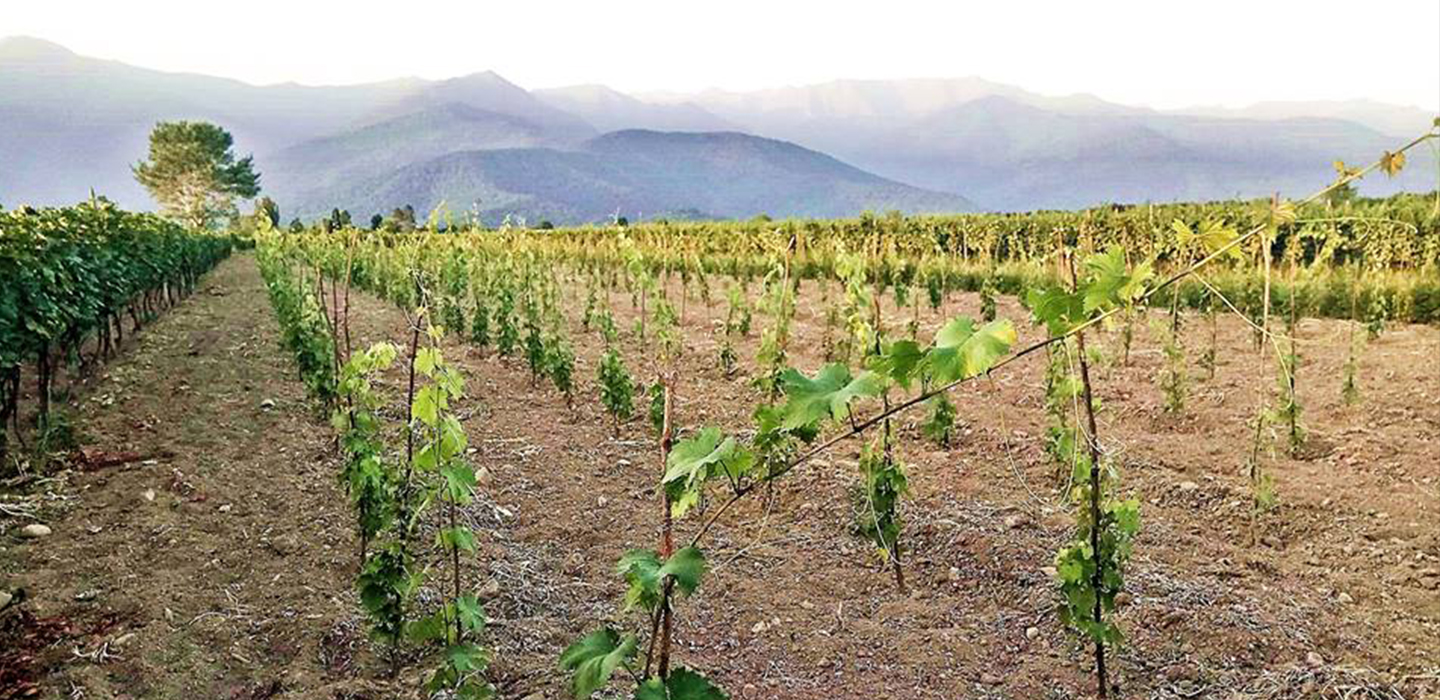 New Vineyard Planted
Planted rare Georgian grape varieties which we have found in various places throughout the whole region of Kakheti.
2017
Starting to Bottle
The label of Winery Shatiri is inspired by Georgian alphabet which holds the status of the intangible cultural heritage of humanity by UNESCO. Vakhtangi and Nikolozi Shatirishvili have a publishing business as well. During the process of choosing the design for the wine label, they decided to use the Georgian alphabet which is very original and eye-catching.
2018
Winethon Winner
Vakhtangi Shatirishvili, the founder of Winery Shatiri won the contest mini CreateAthon 'Winethon' held within the Global Entrepreneurship Week. The contest aimed to explore the innovative and creative ideas in wine industry. The ending ceremony of the mentioned event has been held in Tbilisi Techno Park today.
In frames of the project, more than 30 000 events are organized annually in over 170 countries with participation of around 20 million people. Global Entrepreneurship Week is co-organized by Global Entrepreneurship Network and Georgia's Innovation and Technology Agency. The project was sponsored by the US Embassy in Georgia.

2018
Saperavi International 2018 Winner
On 15-16 of December, 2018, with the support of the ``Georgian Wine`` association, Ministry of Environment and Natural Resources Protection of Georgia and National Agency of Wine, first international contest of Saperavi has been held. Within the contest wine samples were introduced from 87 companies, including large, small and medium producers, as well as nearly 200 samples of small and medium wine cellars were introduced, which then was being tasted by board consisted from Georgian and foreign experts. The chair of the jury was famous British journalist and writer, Andrew Jefford. In this contest our wines were awarded with one silver and two bronze medals. This is the first victory of our winery and a proof, that dedication to our business leads to special outcomes.
2018
IFE - The International Food & Drink Event
On 17-20 of March, 2019, at prestigious event - IFE - The International Food & Drink Event, in London, the production of Winery Shatiri was presented by Vakhtangi Shatirishvili. Within this event, guests had a chance to taste production of winery Shatiri and get information directly from the producer. We are glad, that our wine triggered huge interest from the representatives from various countries. On this event special attention was drawn to our exclusive - Feijoa vodka. We want express gratitude for the support provided to Enterprise Georgia/აწარმოე საქართველოში, which gave an opportunity to wine producers to participate in this event.
2019
Caspian Agro
On 15-17 May, Winery Shatiri presented its products on Caspian Agro, in Baku, Azerbaijan. In frames of the event, the guests had possibility to taste Winery Shatiri's products and receive information directly from the producer.
Notewothily, our Qvevri Saperavi deserved very positive feedback and great interest from
international community. Moreover, special attention was given to out exclusive Kiwi Spirit. We would like to thank the Ministry of Environment Protection and Agriculture of Georgia for the active support that made our participation in this event possible.
2019
Lithuanian TV show Starkaus & Radzevičiaus kelionės
On 18-19 May, Winery Shatiri has hosted the famous Lithuanian TV show Starkaus & Radzevičiaus kelionės. The anchors of the show Martinas Starkus and Vitaras Radzevičiaus during their visit in Lagodekhi, have attended the opening of the Qvevri and got the information on traditional Georgian wine-making methods. The guests were able to prepare and taste traditional Georgian dishes.
2019
International Qvevri Wine Competition
One more success of Winery Shatiri on International Wine Contests. On 21-22 June 2019, with the support of Association 'Georgian Wine', Ministry of Environment Protection and Agriculture of Georgia and National Wine Agency the third international wine contest was held. Within the contest, the jury has tasted 332 samples of wine presented by 120 companies, including big industrial players as well as small family type cellars. The jury was composed of Georgian and international wine experts.
Our wines were awarded 2 bronze medals.
Saperavi Qvevri semi-dry, 2018 – Bronze Medal
Rkatsiteli White Dry, 2012 – Bronze Medal

2019
Seminar Organized by China National Research Institute of Food & Fermentation Industries
On August 7-27, 2019, China National Research Institute of Food & Fermentation Industries organized a seminar on Alcohol Distribution Management and Promotion for Georgia, which took place in China. Winery Shatiri participated in the event along with other Georgian companies. During the seminar, guests had an opportunity to taste our products and obtain information directly from us. We are glad that our Saperavi gained such an interest and approval from Chinese importers. We would like to thank the LEPL National Wine Agency of Georgia and the Chinese government for supporting this seminar.
2019
The Best Small Winery 2020
Winery Shatiri became a winner of the nomination Best Small Winery on the Welcome to Georgia National Tourism Awards.
2020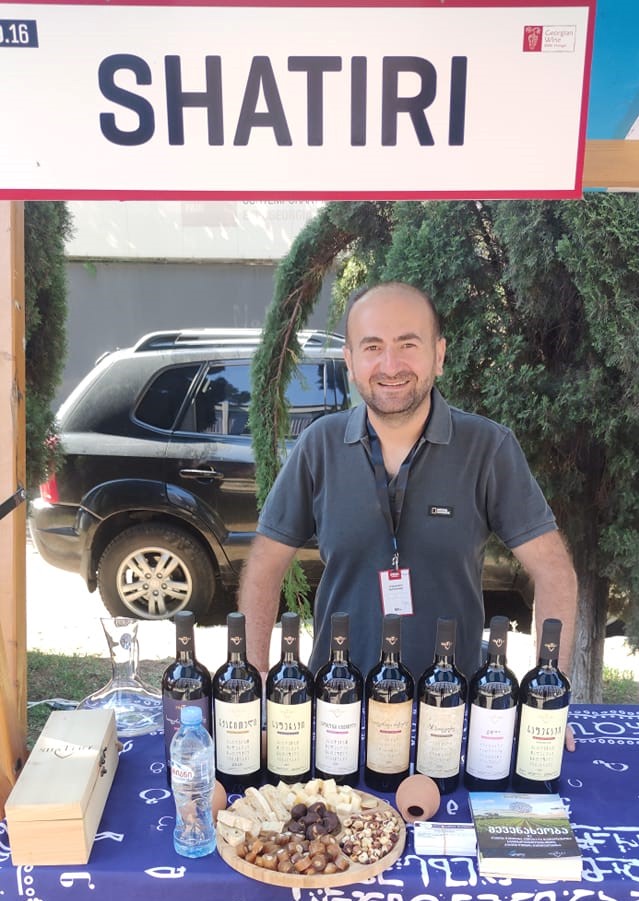 14th International Exposition of Wine and Alcohol Drinks
On June 10-12, Vakhtangi Shatirishvili took part in the exposition and presented various wines produced by Winery Shatiri.
2022
Saperica 2nd International Festival
In New York, on May 12-13, Vakhtangi Shatirishvili, the founder of the winery Shatiri took part in the festival. He presented various wines produced by Winery Shatiri. American enologists, sommeliers, wine writers, reporters, representatives of wine shops and restaurants attended the festival. Wines produced by Winery Shatiri earned good reviews from them.
2023